During the pandemic Stef read The Salt Path by Raynor Winn and fell in love with the idea of walking the South West Coast Path. We didn't have the ability (or the fitness) to do the entire thing in one go, but we had become frequent users of the UK train network for holidays so hatched a plan to complete the path in 3-4 day stages, maximising use of public transport.
Although not possible along the entire route, ideally, we would catch a train the start of the stage, walk over a long weekend, staying in B&Bs or camping, then finish at another train station for the journey home.  Where trains weren't local, we would have to make use of busses, plan a longer stage, or worst-case drive down (something I wanted to avoid because you then have to get back to the car, not to mention then having a 4+ hour drive back to London).
---
Equipment
We have become pretty good at travelling light, it's been a long time since we took more than hand luggage on a flight and love the speed and ease of travel when carrying a single bag.
We apply this minimal approach to camping as well and continue to invest in light weight equipment and well as making use of shops, cafes and restaurants as much as possible.  With the SWCP we've planned on two approaches.  When we can we make use of B&Bs so that we don't have to carry camping equipment, this means we can focus on wet weather gear, snacks, and spare socks!  The problem with this approach is that in the summer it's very difficult to find a B&B that will rent a room for a single night, they want to maximise income by renting for a whole week or at least weekend.  We can avoid that problem by travelling off season (which has the advantage of being quieter), but it does limit access to the best weather.
Where B&B's aren't an option due to how far we can compatibly walk in a single day (which turns out to be about 12 miles on the undulating terrain of the route) we have to camp.  This isn't something we've done yet, so I'll talk about it more once we've got some practical experience.
B&B based packing list
Backpack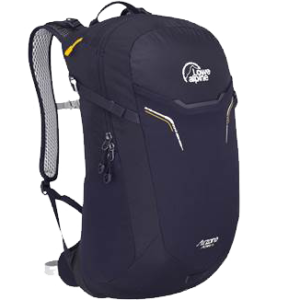 I use a Lowe Alpine Airzone Active 18 which has plenty of space for day hiking, sits off your back to keep you cool. The 2 mesh side pockets are great for holding a water bottle and snacks, and there is a large back mesh pocket which I use for more snacks or to store a rain jacket if I'm taking it on and off.  It has fittings to hold sticks, which I haven't used yet but can see the benefit when going up lots of stairs so might pick some up.
Apart from the main storage area there are 2 zip pockets, the outside pocket is used for quick access items, fist aid kit, phone USB battery and sunglasses.  The other internal pocket is great for things like keys that won't be needed on the hike.
Clothes
Quick-dry convertible trousers.  They are light weight have plenty of pockets.  I've never used them as shorts when hiking the path because there tends to be a lot of stinging nettles, but it's nice to have the option.
Quick-dry long sleeve t-shirt. This can be washed in the evening and be dry the next morning.  I carry a space in the pack.
Fleece. I have a light fleece or heavier one with a hood, which I'll select based on the weather for the trip. When not in use I roll it up and carry it on the back of my pack where it protects my neck from the sun.
Running tights.  These make a great extra layer if it's cold and can also be worn on their own if the trousers are damaged.
Lightweight waterproof jacket.  This packs up very small and keeps the rain and wind off.  If we were hiking in colder weather I would take something heavier.
Cheap waterproof trousers.  This pack up small enough and I find waterproof trousers can be damaged by thorns, barbed wire and other hazards so try to avoid spending a lot of money.
Waterproof socks are amazing at keeping my feet dry even when my boots aren't up to the job, I carry a spare pair.
Quick-dry underpants, can be washed and dried over night, I carry a spare pair.
Baseball cap and beanie (I find the beanie gets the most use as the baseball cap catches the wind and flies off).
Sunglasses.
Komoot Links
We've been using Komoot to plan and record our progress.  You can view each day stage using the links below.
Note: some days are missing as Komoot wasn't used (1.4 Fowey to Par).
---
Google Map

---
Gallery
There is a full gallery hosted on Google Photos which you can view with the link.  Some of my favorite photos are below.