Universal Storage II (UvSii) is the follow up to KSP's original wedge based parts mod,  Service modules are build from a central core, around which you can place various resource and processor wedges.  Customization fairings complete the service module, providing aerodynamic shielding with access via payload doors. Most parts are resizable allowing increased storage capacity while keeping part counts low.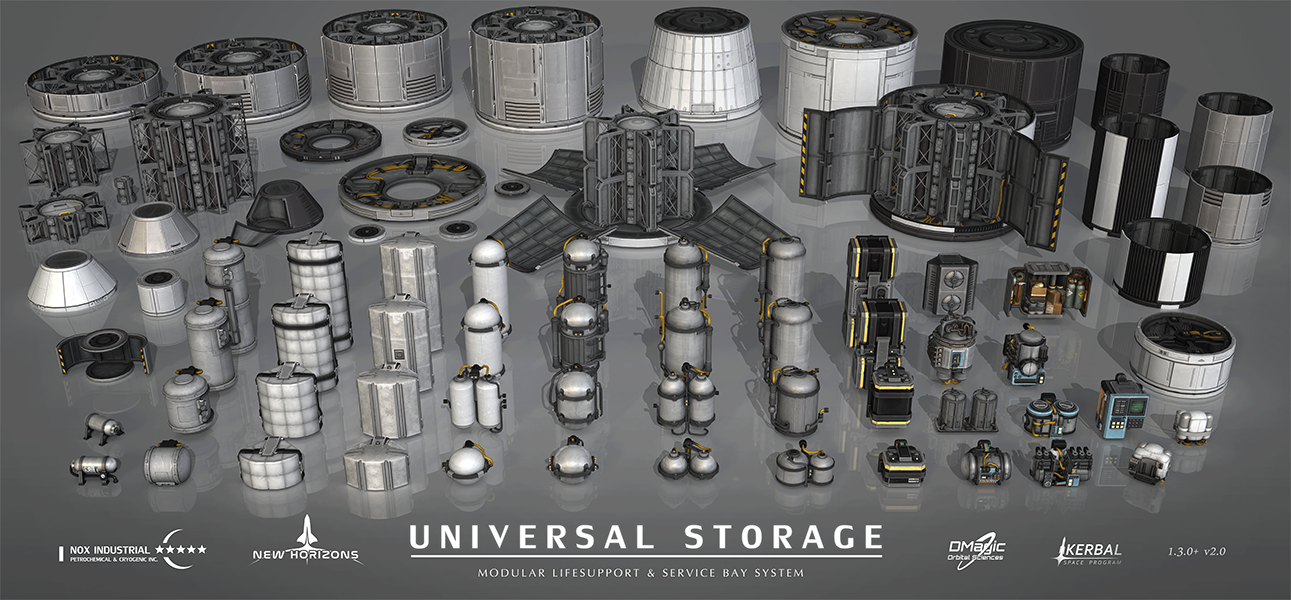 Frequently asked questions are available with the link above or on the KSP forums.
For questions, support or bug reports please use the KSP forums.  All three mod authors monitor the thread and we'll do our best to reply quickly.
You can view and raise support tickets directly in our bitbucket issue log. Simply follow the link and you can raise a new issue, add information to existing issue or simple review what we're currently working on.
For mod updates and news, please follow @PaulKingtiger on Twitter.
You can download the mod at SpaceDock.  There is a separate version for KSP 1.3.1 so make sure you download the correct file.  Use the changelog button on SpaceDock to view each version.
Universal Storage on OneDrive
https://steamcommunity.com/id/paul_kt/myworkshopfiles/?appid=220200
---
Features
Three step build process
Service modules are built from three basic parts.  The core provides the structure with space to attach payload wedges and the fairing provides aerodynamic shielding.

---
Multiple configurations
Most parts have multiple height options, allowing increased resource storage without bloating part count.  Cost, mass and capacity all scale linearly so every configuration is balanced.
Larger cores and fairings have multiple configurations.  The larger cores feature a central fuel tank or a crew transfer tunnel (for use with Connected Living Space).  Selected fairings can be configured as a payload bay for use without a core or wedges.
Fairings can be configured to match the look of your craft, with either Porkjet, Gemini, Apollo or Saturn (Universal Storage Classic) paint schemes.

---
Designed to work with 3rd party mods
Built from the ground up to provide resource storage for the popular life support mods.  The game will automatically detect which mods you have installed and load payload wedges to match.  In addition, Universal Storage is closely linked with DMagic Orbital science to provide a large selection of wedge format science experiments when both are installed.  Wedges are Kerbal Inventory System (KIS) compatible, allowing Kerbals on EVA to swap out wedges as part of a resupply mission.
Compatible mods
---
KSPedia
Full KSPedia support provides in-game information on the parts, their features and how to build craft.  The mod includes support for animated gifs in KSPedia pages.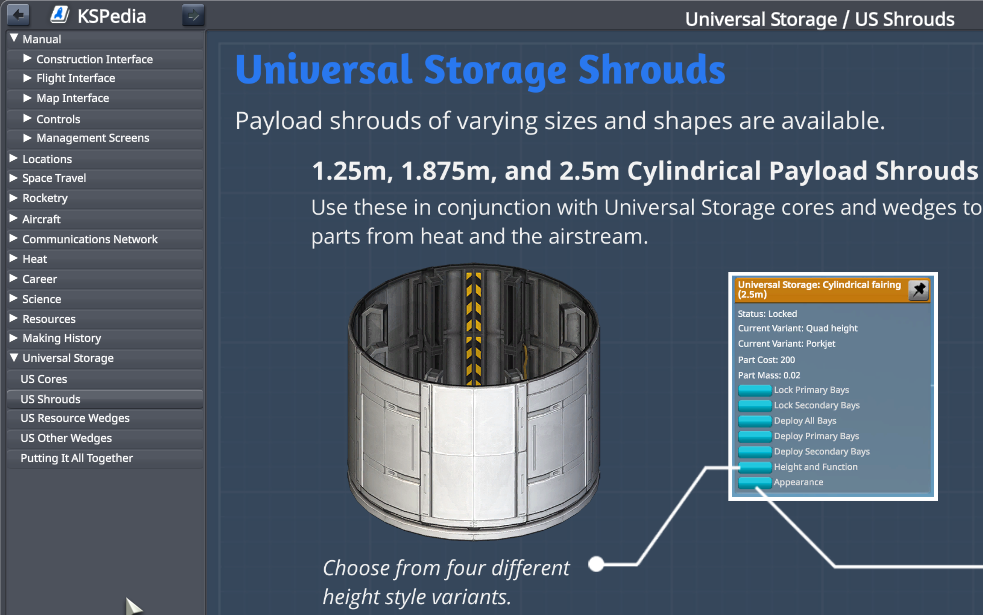 ---
Career mode support
The mod is fully comparable with career mode, with parts balanced against their non-wedge equivalents ensuring there are no 'cheat' parts.  Part unlocking follows a logical progression with the majority of parts available at tier five and six.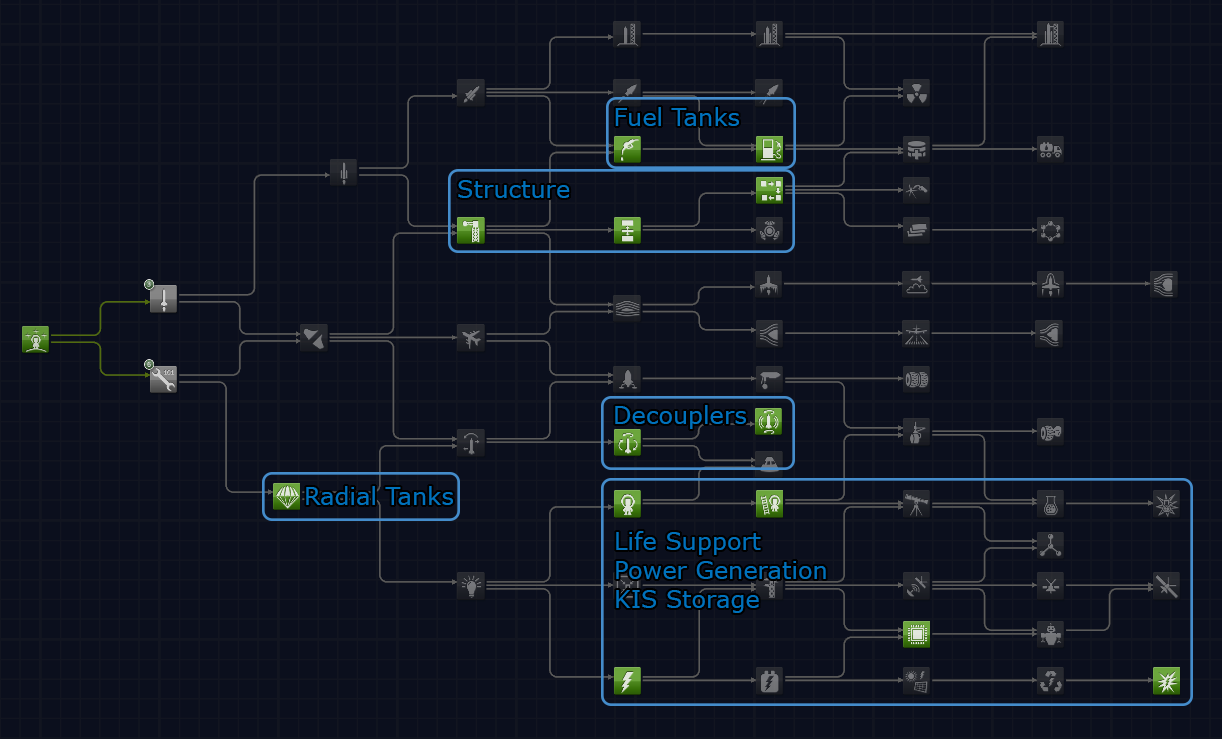 ---
The Universal Storage Team
Daishi – Nox Industrial
3D models
Textures
Animations
A highly proficient 3D modeler and animator, Daishi has created the parts for Universal Storage and other mods on KSP.
DMagic – DMagic Orbital Science
With 18 mods currently on SpaceDock, Dmagic is one of the games most prolific modders.  Probably best know for Orbital Science, he is also the current maintainer of SCANsat and author of many other 'quality of life improvement' mods.
Original concept
Research and part balancing
Website
Paul has created a number of minor balance mods for KSP but Universal Storage was his first large scale mod.  When not playing around with KSP Paul plays Paradox grand strategy games and World of warships, as well as messing around with physical computing and restoring old electronics.
Translation credits
Thanks to the work of these amazing volunteers, we are able to offer full localization support for Universal Storage.
---
Source Code
You can download the source (zip file) using the link below.